'The D.E.Y.' Performs at The Track Shack VIP Party
R&B, Hip-Pop Latin Trio The D.E.Y. Showcases their Fusion-Heavy, Pulsating Single, "Get the Feeling" Produced by Timbaland
SACRAMENTO, CA — March 25, 2008 — Epic recording artist The D.E.Y. performed today at an Invitation Only 'One Night Stand Party' co-hosted by The Track Shack and 103.5FM The Bomb.  Featured on MTV, The D.E.Y. brought its sultry R&B vocal sabroso and hip-pop beats to Sacramento's newest recording studio, featuring the trio's quick-tongued rap verses anchored by club-ready hooks.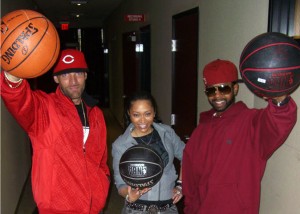 The D.E.Y. is Divine, Élan, and Yeyo (DEY) that together create a bilingual Latino sensation combining Hip-Hop, R&B, Pop, and Afro-Latino influences.  Singer Élan Luz Rivera and MCs Divine and Yeyo, fuse an urban singing/rapping sound that was captured on their debut album,  The D.E.Y. Has Come,  Earning heavy rotation on English- and Spanish-language radio, the CD is supported by A-list studio wizards Timbaland, JR Rotem and Stargate.
"We want to unify our communities," Divine says of The DEY's mission. "By being bilingual, we address all those people — the non-English speaker and the non-Spanish speaker — and we create a bridge between them, a space where they can all exist."  "A very special 'thank you' to The D.E.Y. and the crew at 103.5FM The Bomb," said Chuck Hansen, owner of The Track Shack.