Grammy Winner Ne-Yo Visits The Track Shack
Def Jam Recording Artist and Multi-Platinum Songwriter Does Live On-Air Interview, Fan 'Meet & Greet' and Recording at TheTrackShack Studios

SACRAMENTO, CA — May 11, 2008 — Multi-platinum recording artist Shaffer Chimere Smith, aka Ne-Yo, stopped by The Track Shack on Mother's Day to meet fans and do a live on-air interview with 103.5FM The Bomb. Grammy award winner for Best Contempory R&B Album for Because of You, and nominated for five Grammies in 2008, Ne-Yo has come farther and fastest than any male recording artist in recent memory.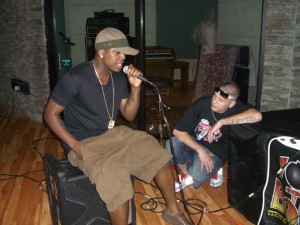 An accomplished artist, Ne-Yo is also an acclaimed songwriter and master in the art of storytelling, that began writing music and lyrics at an early age. A vivid imagination and creative energy has allowed Ne-Yo to write songs for multi-platinum artists such as Mary J. Blige, B2K, Faith Evans, and Musiq. When asked about writing number one hits for other artists, simply put, Ne-Yo said, "I feel there is always room for good music."
Set to release his newest album, Year of the Gentlemen in June 2008, Ne-Yo's first album In My Own Words, released February 2006, has already sold 1.4 million copies, while his second album, Because of You, released May 2007, has sold over 942,000 copies.
Ne-Yo has also written songs for Whitney Houston, Celine Dion, Britney Spears, Corbin Bleu, and Enrique Iglesias. In addition, Ne-Yo is writing songs for Craig David, Usher, Chris Brown, Jennifer Hudson, Leona Lewis, and he recently confirmed that he has been contacted by producer will.i.am to work on Michael Jackson's upcoming album (Pictured with Ne-Yo is House of Hansen record label exec, Chuck Hansen, in his office at The Track Shack studios).