Rick Ross, America's #1 Rapper & Hip Hop Recording Artist, Invades The Track Shack Studios
Northern California's Leading Studio Continues To Host Music Industry Players
SACRAMENTO, CA — July 25, 2008 — Far from his Miami crib, Rick Ross, America's #1 Rapper and Hip Hop Artist, layed down new tracks for his upcoming album at Northern California's leading studio, The Track Shack.
Rick Ross and Chuck Hansen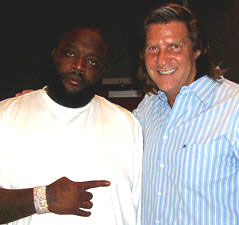 While his lyrics talk a big game about yachts, chains, and champagne, Rick Ross proved why he's on top of the charts by getting down to business for a 1:00am -4:00am recording session at TheTrackShack. Most industry insiders know Rick's huge draw, as Trilla, influenced by Michael Jackson's Thriller in title and hopes of impact, is passing 630,000 units and Port of Miami, last year's mega release passing 820,000 unit sales. But, what people don't know, is Rick's bad-ass work ethic, to keep the hits coming.
Set to release later this year, Rick's signature lyrics were in full gear. Working with House Engineer, Peter de Leon, keeping friends and fans at a distance, Rick tore down the walls of iso-booth #1 with blazing statements of life on his street.
Rick Ross, born William Leonard Roberts on January 21, 1977, is best known as Rick Ro$$, a moniker derived from the name of drug trafficker Freeway Ricky Ross. First signed with Slip-N-Slide Records and distributed under Universal's Def Jam Recordings. His debut album, Port of Miami, was released in August 2006 and debuted at the top spot on the Billboard 200 album chart with sales at 187,000 units its first week out. Its lead single "Hustlin'" was certified gold in May 2006, with nearly a million ringtones of the song sold prior to the album release. In March 2008, his second album Trilla was released and debuted at the top of the Billboard 200. Its lead single "Speedin'" featuring R. Kelly ranked at #21 on the Billboard Hot 100; the next one, "The Boss" featuring T-Pain peaked at #17 on the Hot 100, and his third single "Here I Am" featuring Nelly and Avery Storm, ranked him fourth spot in 2008′s "Hottest MCs In The Game."